Doshi
Japanese Name:
Romanji Name:
Stats
Gender:
Male
Status:
Dead
Occupation:
Affiliation:
First Appearance
Manga Debut:
Chapter 44
Image Gallery
Appearance
Edit
Doshi is a short, squat man. He has a large pointed chin, thick eyebrows, and short dark hair going into a sharp widow's peak. His clothing consists of robes with large sleeves, and a piece of armor that drapes over most of his shoulders, with either side hanging down in the front. 
Personality
Edit
Abilities and Powers
Edit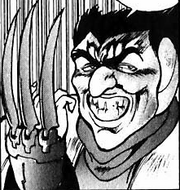 Not much is known about his skills in combat, or if Doshi possesses any magic power.
He uses metal claws on his right hand and is presumably proficient in using them.